Josiane ABRIAL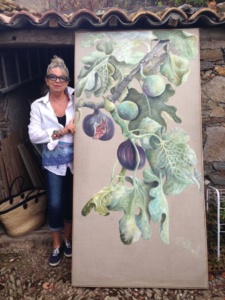 « Nature c'est toi l'artiste ! »

Diplômée des Arts Déco de Nice, d'architecture d'intérieur et industrial design de Paris, Josiane Abrial reste une passionnée de la couleur. Son cursus parisien achevé, elle descend à Saint Tropez, le « Pays » d'origine de son mari. Tous deux décident de louer une boutique pour payer leurs vacances.

Elle vend notamment du linge de maison qu'elle peint et brode à la main. Le succès, phénoménal et immédiat a prolongé ces «vacances» depuis 28 ans ! Ses collections s'exportent dans les plus prestigieuses boutiques du monde entier: Harrod's, Bloomingdale… Josiane Abrial ouvre également une boutique à Los Angeles. Malheureusement, pendant son séjour aux Etats-Unis, sa boutique tropézienne est cambriolée.« J'ai dû recommencer avec ce que j'avais entre les mains : mon art et ma peinture », déclare Josiane Abrial. Les fleurs de Josiane et quel renouveau !

Dans son nouvel atelier, on découvre ainsi une nature délicieuse et silencieuse, celle des fleurs, celle de Josiane. Elle donne vie à vos murs avec ses peintures de fleurs si délicates, si justes. Presque plus vraies que nature puisqu'elle apporte cette part d'âme artistique unique. Décoratrice conseil, elle vous aidera à relooker votre intérieur pour qu'il ne soit qu'un hommage poétique à la nature.

« Ce ne sont pas les merveilles qui manquent mais les émerveillements »,

Cette phrase demeure la devise de cette artiste qui a choisi de toujours s'émerveiller. Et de renchérir  » Matisse disait qu'il y a des fleurs un peu partout pour ceux qui veulent les voir… » Je les montre de 30 centimètres et jusqu'à 3 mètres de haut !

Mais la nature de Josiane ne s'arrête pas aux fleurs. Cette femme peint avec talent les visages, les fruits, les légumes, les jardins…

« Nature you are the artist ! »

Graduated in Nice Arts Decoratives School and Paris interior Architecture and Industrial Design , Josiane Abrial is still a colour passionate . 
After having finished her parisian course , she comes to St Tropez , the native country of her husband . They both decide to rent a boutique to pay their holidays.

She sells , by the way, house linen that she paints and hand-embroidered . The great and immediate success has carried on these holidays for 28 years . Her collections are exported in the most prestigious boutiques in the whole world . Harrod's , Bloomingdale … Josiane Abrial also opens a boutique in Los Angeles . Unfortunately her Tropezian boutique is burgled .  » I had to restart all over again with what I had into my hands : my Art and my painting  » she says .

Josiane's flowers and what a renewal !

In her new studio , one can discover a delicious and silent nature, made of Josiane 'flowers . She also paints other subjects .

Josiane's flowers And what a renaissance! A natural world of delight and silence, of flowers. Josiane's new world gives life to our walls. Her delicate and perfect flowers are full of her unique artistic soul. With her advise in decoration, your interior can also be a eulogy to mother nature.

" There are not lack of wonders but the wonderings",

This sentence remains the artist's motto, as do Matisse's words " there are flowers almost everywhere for those who want to see them ".

For Josiane, they can be 30 centimetres or 3 metres high!

But her world is not just a flower garden, it also has faces, fruit, vegetable… all with the same beauty and perfection.

Josiane Abrial conçoit, réalise, enseigne…

le tableau de vos rêves, vos décors peints main,

Toiles Lin, Soie, Bois, Terre,

Murs, Sols, Bâches, etc…

Mobilier, couvre lits, coussins, rideaux, etc…

Mode : vêtements, vos sacs, chaussures, chapeaux,  etc…

Vos idées pour vous, ou avec vous, ses conseils, son expérience de 40 ans de métier et de techniques, CAFAS, diplômée Arts Déco Paris.

Josiane Abrial designs, creates, teaches …

She can imagine the picture of your dreams ,

Your hand painting decorations

Linen canvas , silk, wood , clay

Walls, floors, canvas cover , furniture, bed covers etc…cushions , curtains etc …

Fashion : clothes, bags , shoes, hats etc …

Any ideas for you, or with you , her 40 years experience of work and technics , with all her qualifications .